diamond bracelet from Birks
Nothing makes me happier than a nice talk with friends and loved ones. that's one thing money can't buy.

was playing around with photoshop and turns out the 3 pictures I shot of each blogger rummaging through their bags could be stitched together - except for the little blurry part on carrisa's bag.
carrisa . patricia . talisha (just realized that their names rhyme !)

armani exchange chiffon halter blouse, zara cardigan, uniqlo shorts, ebay-ed belt, vintage necklace from mom, zara bag for camera (left), mulberry bag (right), aldo wedges

also received this pretty bracelet from Odette and Odille ! I love the pearls and the floral print
odette and odille pearl bracelet. metalli @ ion orchard angel wing ring and slinky gold ring. forever21 rope ring.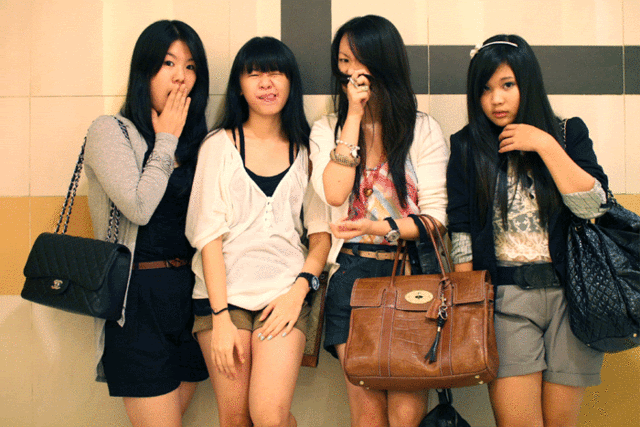 The internet is just like the ocean. It's humongous, and no one knows what's in it completely. As it grows bigger each day, we still don't have a way to control what goes on. Earlier today, one of my blog friend received an anonymous comment saying that she's fat and ugly. I understand people's right in voicing out their opinions. However, no one has the right to call a girl (and even boys) fat and ugly. We bloggers are NOT models. We're not all anorexic, size 0, and we're not proffesionals. Humans come in different shapes and sizes. I agree that our physical structure matters, but what matters most is what's inside you. Nothing beats a girl/boy who has a warm and friendly heart. I don't want to sound like a consultant. But what IF someone else you don't even know calls you fat and ugly ? What if your friends are all supermodels but they only call when they need help and they never respond when you need their help? I have no idea if the writer of the anonymous commenter is reading this, but if you are, WAKE UP HUMAN ! If you're brave enough to express your thoughts, then don't write anonymously. TYPE WITH PRIDE ! Unless you show some courage anytime soon, I'll give you a little nickname for now : CHICKEN.
*sorry for the little rambling at the end. i just thought i need to get that disturbing thought out of my head (and probably my friend's too)*