Mitchybelle Cropped padded shoulder top, Nikicio NN:02 Dark Grey Jersey Pants, Forever21 cross necklace, DIY shoulder chains, Chanel 2.55 bag, Lanvin platform heels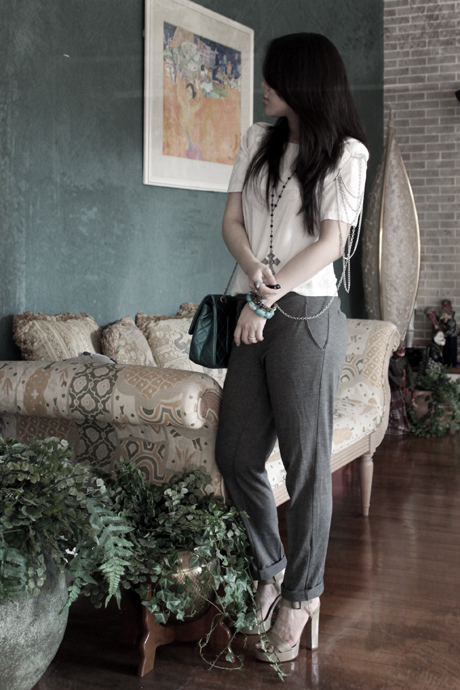 very happy to see the results of my DIY chains :) I connected it to the bejeweled bracelet if you havent noticed..

Many people told me what's the point of battling a 2.5 hour traffic while driving all the way from the farthest north to the farthest south of Jakarta just to see clothes. To me, it aint just any clothes. It's Nikicio's latest collection : Mixté Vol . 05.
going old with polaroids because I took these videos with my blackberry camera.. why not use a proper camera if you ask.. because I FORGOT the memory card when I left the house fully equipped. So I have the body, lens, and all.. but I forgot that tiny little card that ruined my mood.
didnt get a chance to watch the show ? Watch it here !
As the DJ played Arctic Monkeys, nudes and pastels all layered together jump start the catwalk. Not long after the show ran, I have already told myself that i (read) MUST get the longer back jersey dress. The asymmetrical cut is flattering and the nude color would go with anything in my closet. As the girls walked, some masculine pieces such as polka dot asymmetrical blazers were introduced bit by bit. I was awed by the sophistication of these dots. Never in my life, I've seen polka dots in a non-tacky mode. As the show approached the finale, a glam ghetto spirit emerged. From hip hoodies to leopard coats, I felt like I was no longer in Jakarta but in Brooklyn, New York.
The runway kicked-off in May but ended as if it was September. Sounds like a heterogenous collection? Well, that's Nikicio Mixte. A diverse set of ideas all pulled into one. And of course, every piece is made to last for more than a season.
want more ? click www.nikicio.com
Some snaps at the event.. met other bloggers : Diana, Nina, Putri, and Selly

that's hafiz popping in the picture..

photos at event courtesy of whiteboard-journal, nina, and putri.

some of my favorite looks from the mixté lookbook photographed by evelyn pritt. [click to enlarge]