I guess most Indonesians are already aware of this
competition
hosted by METRO Department Store. But for those who don't, METRO is running two themes for their spring campaign:
Delightfully Dreamy
or
Eclectically Edgy
. All we have to do to participate is take as many pictures that match the theme and upload them to METRO's microsite
here
. If your looks amaze the judge and voters, you'll win IDR 3,000,000 worth of METRO voucher (pssst.. there's be THREE winners ! and all of them will win 3mill vouchers each !)
Here are some goodies I snapped at the deparment store that suits my taste AND both of the themes ! as many of you know, my style is naturally eclectic. So I guess the stuff below could be worn altogether by me !
those nude peep toes by Nine West are to die for.. Pink accents made it look young instead of too formal..

beautfiful fur vest and collar and agne. I'd pair this with a black tank and those Wimo peep toe oxfords and the BYSI high waist shorts below..

METRO also has a specialized jewelry store at Pondok Indah Mall I. *i forgot the name of the shop* It's on the second floor right next to Charles & Keith. They stock up nice vintage and ethnic style rings and bangles. My picks are these round ones and the giant silver wraparound below.

got the silver one and another oversize ring for myelf :) my coordinator, Welliem, was nice enough to offer me his staff discount facilities.

lovely draped piece my XSML .. I can totally wear this all summer long and even into the winter season as well.. not that I have any winter here..

faux leather jacket = key to the edgy look.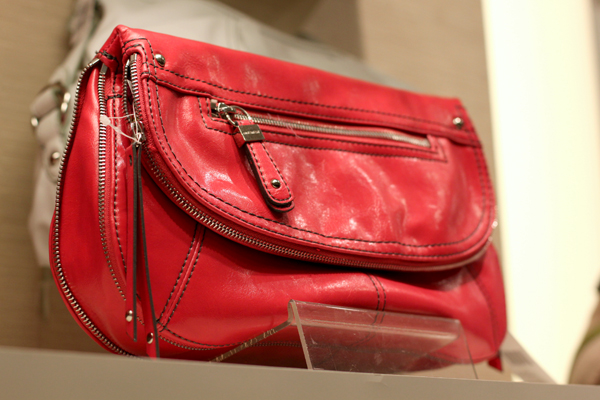 pops of coral adds a touch of feminism into the edgy looks. This Nine West oversize clutch has a sweet color with tought zipper details.


last but not least, I'm a fan of accessories. the heavily chained necklace on the left is by XSML and the chains on the right are attached to the shirt.
normal outfit posting resumes tommorow (if my time frame allows me..)
hope you all had a wonderful weekend !! dont forget to enter my
tights giveaway
and also keep
voting
for my l'oreal elseve review !