finally got the time to update my blog (well not really actually..typing up this post while I'm in my uber boring budget planning class) . it's been a week since the last time i updated and even after today, the only time I can post another post up is next Friday :( so be patient with the posts and comment replies. I promise I will reply those comments ASAP !
anyhow, this lovely mid-stress-week-from-exams-and-projects post is dedicated to the Brightspot Market I went with lovely blogger biatches (..except Cynthia) last friday..
WARNING SUPER-HEAVY IMAGE POST !
(let's hope Flickr load up these shots properly!)

wore my favorite Cotton Ink Grey Melange to the bazaar as an asymmetrical mini dress. this is what i truly love about cotton ink, can find gazillion of ways to wear it without getting bored.
ps* check out their newly updated blog shop layout ! you'll defo want to buy something from there !
that's a better view of the assymetrical feature..worn with Bebe pleated skirt underneath, unbranded belt, Topshop tights, Miu Miu peep toes.


this is my favorite 'shocking colored' tights ever ! i actually wore these to my first and last school formals.


Chanel Paris Biaritz bag (not sure about the Biaritz spelling there and far too lazy to search up on Google..), bracelets from Bali, Moselle, Forever21 and Topshop. The ring I got on the J-Town bazaar i posted up 2 posts ago..




the almost-whole gang . missing ayu cus she was taking the pic.
meeee, nora, riati, piping, and cynthia..


did you realize we're all carrying cotton ink plastic bags ? :D it shows how much we love you !

i love the "candid" picture on the left with my lebay forehead.. wouldnt consider it candid much I told Ayu to actually the picture while I was pretending to be busy.. the ciggies on the right arent mine but ayu's.. but i love the lighting in this picture..


this lovely spaghetti ala vongole (fancy version of spaghetti with clams) was Ayu's meal at Potato Head. Wasn't too good, but we had no other place to sit at when we arrived earlier on 11..


the food names at capocaccia was so complicated that i couldnt remember it. this one was SUPERB and it had pork (yes i love pork ham ! and it's very hard to find a good one here in Indo) some brie cheese and my favorite, truffle oil ;)


had some Matcha Anmitsu at Aji Tei .



lastly (or finally if you've been tired reading this long multi-topic-ed blog post..) kak Prita from Nefertiti Jewels sent me a package with these 2 lovely headbands in it :D sorry for the super late post on this kak Prita !


i think the pig is rocking the headbands better than I am.
I was bored of wearing headbands as headbands, so I decided to go MJ and put em on a fedora.. added a matching lipstick (yes i know that rule where you shouldn't match your makeup with your clothes..but who gives anyway)
okay one more last thing ! i swear this is the last of the last..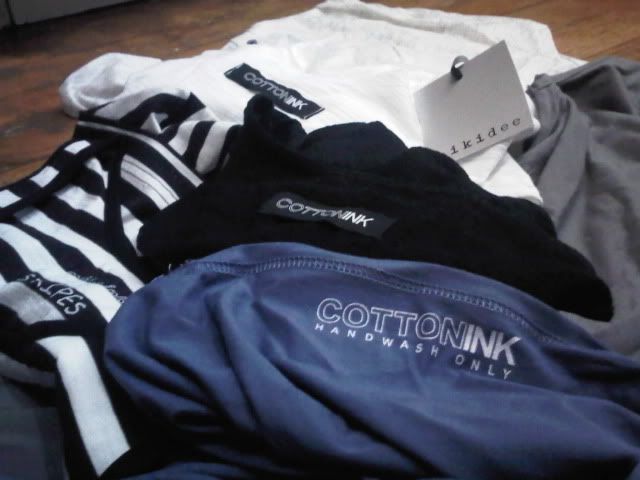 here's my purchase from the Brightspot Market . 5 of em are Cotton ink stuff ! and 1 is from Nikidee . I can't wait to wear all of these babies ! sorry for the fuzzy image, i took this late at night with my blackberry.. heeeee..
So thanks for stopping by to read (or skim through) this looooonnnngggg post .