follow my blog if you like it . iTweet @glister_blister
check out my Chictopia & Lookbook.nu
was too tired to post this up last night so here I am posting it on a Tuesday morning !
First Monday in 2010 ! Life wise, not a very good one for me.. I had this window display project dued right on the first day back. I felt like killing that teacher of mine. Everybody except for one group was in chaos. Nobody prep their displays properly because of the lazy atmosphere from the holidays. However, fashion-wise, it was pretty good !
As usual, I was finding the stuff in my closet being over-worn, sooooo as I did in this
post
, I head to the skirt section of my wardrobe and wore the skirt as a dress ! I don't why, but am really excited to share this outfit post with you all. Maybe it's because I love this skirt very much? the details and fabric is AMAZING ! maybe you should check them out yourself :D
i love it when the wind swooshes through my hair.
robert rodriguez cropped leather jacket, Christian Lacroix skirt worn as dress, Forever21 belt, vintage cross necklace, Zara algae bodycon skirt, Tod's Bag, Pedder Red ankle boots.
check out the multi-prints all over the skirt/dress ! I especially love the lace details that peek in between the different prints.
adding a tiny smidge of more print onto my sleeves by pinning some leftover fabric onto the inside of my jacket . hahaha.. I kinda like this technique.. and am wearing my lovely studded bracelet from Valencia !
I was also browsing for DIY ideas for the leggings and tanks I bought at a cheap price at Puncak. These are my inspirations so far. Maybe you guys can add some to the list ? ;)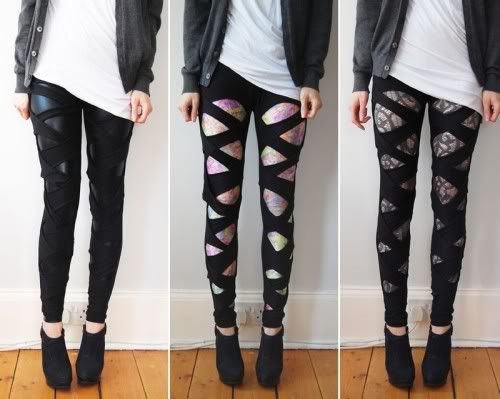 thinking of applying this dip-dyed effect onto leggings and those cutout leggings on the right look terrific over patterned leggings ! i think it's a must to do DIY ! (source: Yes Style and Stolen Girls Club)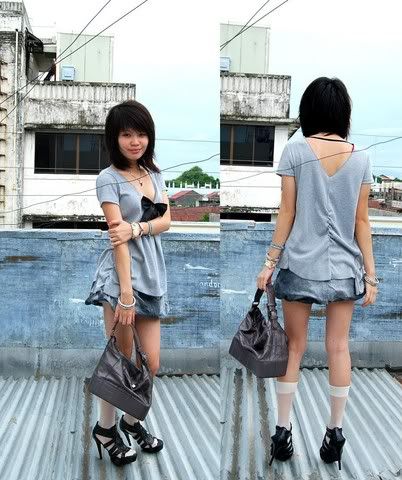 i found this through Ericke's Lookbook. Isn't the tshirt lovely ?
I feel like today's post is a very short one. But i guess it's good because one of my resolutions is to truncate the number of photos !