follow my blog if you like it . iTweet @glister_blister
check out my Chictopia & Lookbook.nu
3 words: BAD HAIR DAY.
I woke up late (as usual) so no time to wash my hair. the best I could do was a good spritz of Bumble and Bumble Hair Powder. Despite the busy morning, I somehow managed to pull out an amazing outfit (well to me it's pretty amazing..hhahaha.its one of my favorite looks in my whole life) together. As I flicked my closet, I quickly grabbed this top Valencia gave me as part of my Christmas package and the jungle and hunting scene started to pop in my mind as I reached for the cargo shorts.. and voila! the outfit was born ! (I seem to be exaggerating at this time.. dont ask why)

Blouse from
Valencia
, Mango cargo shorts with diagonal buttons, Mango khaki vest, Lace up boots from China, Bottega Venetta bag
I'm so glad I can wear these wooden bangles ! I bought for US$1.50 for 3 in Bali, but I never wore them because they were wayyy too big. Turns out that they stood still when I layered it over the blouse sleeves . It's actually one of my outfit's favorite details.
bracelets: studded one from Valencia too, chain bauble watch from Marc Jacobs, Moselle gold thin bangles. Forever21 Cameo pin (worn on vest). Fred Flare gold chain necklace.
choose a new location for shooting the photos. my mom was awake in the morning, so I didn't want her starring and asking me a wide range of questions while I was photo-session-ing. My only solution was to go downstairs where there was no one.
ready to kick some monkey ass (*not..)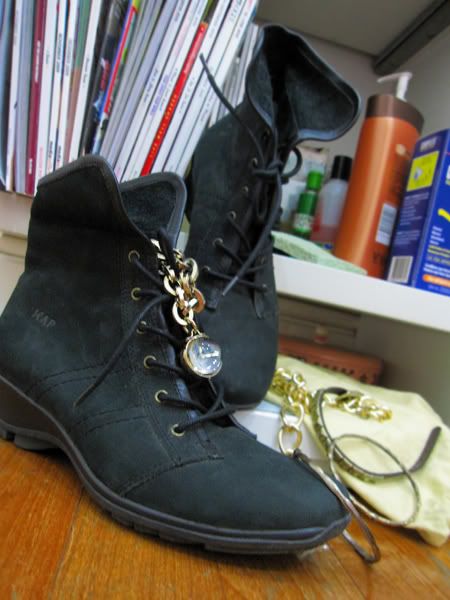 Close up of the shoes and some trinkets..
image credits: Style.com and Sanrio Japan
this was my inspiration board. I've been wanting to try out the Jungle Safari girl look but I've never actually did it until now ! I'm so glad I tried the outfit out :D this also means that I've done one of my new year resolutions which is to try out new styles !

Do you think this trend will continue until the next spring collections? I mean staying trendy for 2 years in fashion is quite long.. Will it last longer?