I will be heading off to Singapore on Friday until Tuesday . So another hiatus for me I guess .. haha.. oh and if you're wondering what my post title is talking about , Boon Tong Kee is my favorite Singaporean Chicken Rice restaurant (and it's also a favorite for the locals and visitors too!).. Singapore really does have the best chicken rice ! I'll make sure to take lots of food porn when I'm there :D Meanwhile just before I jet off, I'll keep you busy with some portraits mini-photoshoot in my room today. Hope you enjoy these monochrome pictures !

tousling my curly cues..


trying out the center part hairstyle since I've been quite successful growing out my bangs :D since like september 2009.. what do you think of this center part look ?


editted by my friend Ayu . She just started her fashion blog called Black Ecstasy by the way ! give her some comments on her first post :D


also editted and shot by Ayu.. i love how the skirt puffs up because of the wind here.. i look like I'm wearing an umbrella..


the dancer's pose . i love this pose very much :D


same photo, different editing .

Bella from
English Eccentric
has been kind enough to draw an illustration of me ! She's such a multi-talented person . She has fabulous style AND great artistic skills at the same time !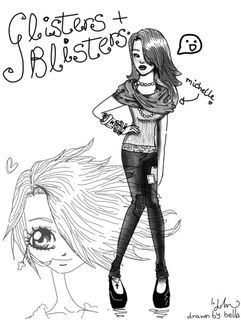 here are some awards and tags I got from other bloggers :D Thanks you all !
First is the OVER THE TOP award from
The Owl's Closet
. With this award, the rules are that I have to fill the questions below with a
one word answer.

1. Where is your cell phone? in my bag..
2. Your hair? unwashed
3. Your mother? irritating
4. Your father? ignorant
5. Your favorite food? ALOT
6. Your dream last night? blank
7. Your favorite drink? ocha (i cant write green tea because its 2 words)
8. Your dream/goal? Happy
9. What room are you in? Car
10. Your hobby? blogging
11. Your fear? loss
12. Where do you want to be in 6 years? stable
13. Where were you last night? home
14. Something you aren't? flirty
15. Muffins? lovely..
16. Wish list item? Mulberry's Bayswater/Alexa
17. Where did you grow up? Jakarta
18. Last thing you did? tweeted
19. What are you wearing? minidress
20. Your TV? none
21. Your pets? Hugo (Shitzu dog)
22. Your friends? dunno
23. Your life? chaos
24. Your mood? sleepy
25. Missing someone? yes
26. Vehicle? Jaguar XF
27. Something you're not wearing? shoes
28. Your favorite store? Zara
29. Your favorite color? eggplant purple
30. When was the last time you laughed? hours ago
31. Last time you cried? This week
32. Your best friend? Ayu
33. One place that I go over and over? plaza indonesia
34. One person who emails me regularly? Karmila
35. Favorite place to eat? alot..

I will pass this tag to Couture Carrie Loves, Fashion Jazz, Quirky Explosions, Gilbert Ganda, and The F Word Online.
also received the One Lovely Blog Award from
Miss Neira
! She's a fabulous girl hailing from Boston who has great style :D
last but not least, say hello to the newest baby of my shoe collection :D I just got it today while I visited Ayu over at On Pedder. And this masterpiece was standing there waiting to be bought. Turns out it was last piece and the shoe instantly felt it belong to me as I tried it on.