So here I am getting worse in my PMS days -_-" i should be doing my final projects, but I really dont have the urge to do so. So rather than doing the project in a poor quality, I'd rather postpone it and do it later. I also realized that I still can't stop snacking (current snack : cream cheese on whole meal pita bread with artificial sweetener)..
Here's my outfit for today . I had a quiz this morning (in which I didn't study for.. if you follow my tweets then you'll know what I mean).. luckily the teacher was nice enough to give an open-book quiz instead . I AM SOOOO LUCKY TODAY ! turns out that many of you ARE right that maybe my Monday wasn't a sign of a bad week at all. hahaha ..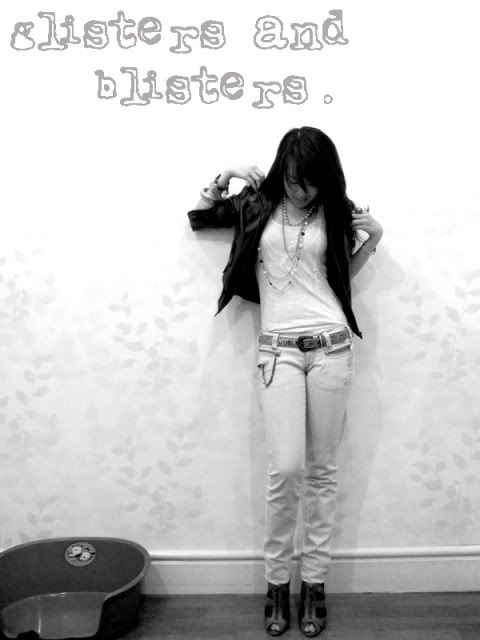 love the black and white tones in this pictures . reminds me of those old black and white photos.
again another double editing . i just love them both . they're both lovely in different ways.
Zara tank top, unbranded leather jacket, Zara sequin belt, Bangles on the left : armani exchange and vintage, bangle of the right: Hermes Clic-Clacs, Miss Sixty jeans, Pedder Red ankle boots.
My jumbo necklace pile .
I feel like I'm boring you readers with my outfits . I kinda feel am not being as fashionable as I used to be . many of my friends said it's one of the PMS side effect :'(
please give me constructive criticism if I'm boring you all out .

I'm off for today . I need some beauty sleep these days .
Good Night to those who are on my side of the Earth :D and good morning to those on the other side .