Gah . I'm not having the best Monday despite the fact that I only had 5 hours of sleep last night (check out my teenie weenie eyes on the photos. lol) ! And it took me so long to get ready . took me like 45 mins to dress up . that's like double the usual amount of time . I changed at about 5 outfits before ending up with the one I posted. Is this a sign of a bad start of the week ? I hope not ..
Plus even with this outfit I wore, I still had to loose the sweater and the scarf. It was way too hot for the weather ! In the end I just wore my liquid leggings and my draped grey tank . haha
Wishdrobe draped tank, unbranded fuschia scarf, Armani Exchange wooly sweater, Armani Exchange belt, liquid leggings from missmegalo.com, Forever21 bangle, Bottega bag, Costume Nationale wedges.
i love the shape of my wedges so much ! plus the gemstone details match my bangles ! they are VERY comfy to walk in but it's to topple over since the shape of the wedge makes us feel very wobbly in it .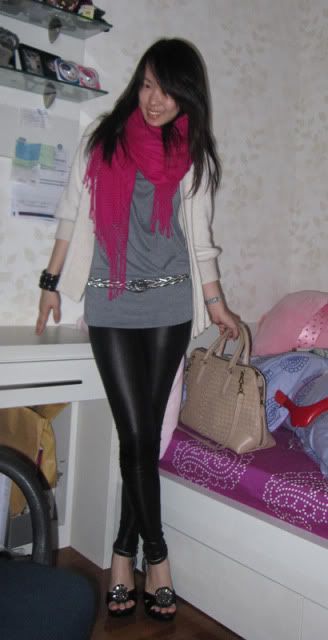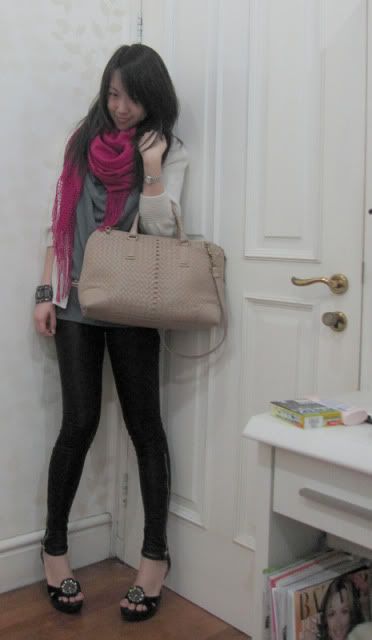 skipped my textiles lecture today because I wasn't feeling up for it . I really am having PMS right now and am not in the mood of doing anything except for eating (that explains my 2kg weight-gain from the Anyer beach trip). Hope I'll feel more focused during the upcoming week as because I got lots of finals that need a lot of tackling.

Here's a close-up of the wedges .