I'm happy that weekend is coming near ! but sad that I still have tons of work to do for school . I'll be having a photoshoot for my advertisement final project tommorow, and I still have replacement class (plus presentation!) on saturday morning. How sucky is that? But on the contrary, I got a new amazing Prada taupe bag from my mom. I love it soo much that I decided to wear it right away. It's very lightweight and great for carrying my daily things inside my bag (which tends to be ALOT).
So yesterday was very relaxing but I wasn't productive either. I just went to my friend's focus group discussion for Data Gathering class and that's all. All i had to do is basically talk and answer questions. Plus free mini J.Co J-Pops donuts! haha..Here's what I wore:
I wasn't sure which picture was better. the pre-edit one (this one below) or the post-edit one. I like them both. I think the scene is good enough even before editing. I decided to shoot in my terrace to get some different scenes instead of my boring room. I guess the green scene matched the paisleys on my dress.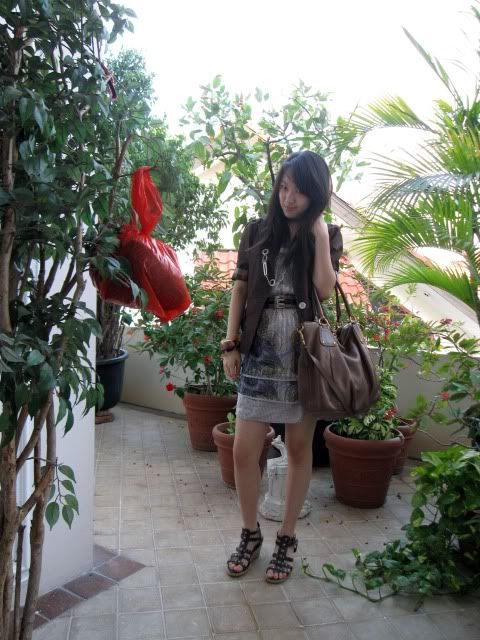 Wishdrobe Dress, Wishdrobe brown blazer, Forever21 necklace, Mango triple belt, Armani Exchange bangles, Forever21 wood bangle, Prada bag, Gladiator wedges from Far East.
AFTER EDITING (BELOW):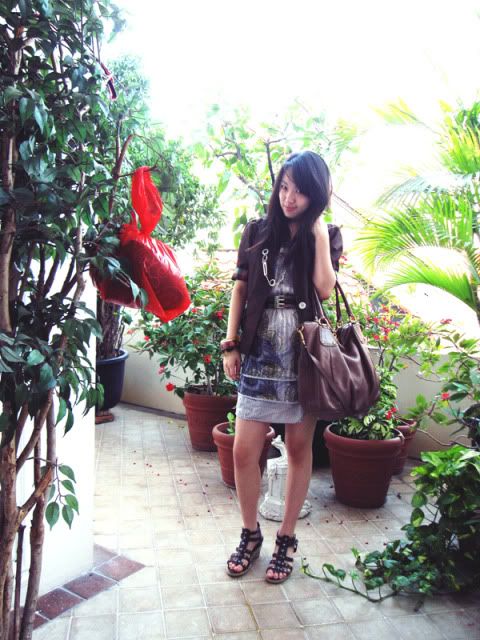 tried the color balance feature on Photoshop, turned out it worked quite well..
Close up of the Paisley print of my chiffon dress
and my lunch at Immigrant, Plaza Indonesia . I had Baked Chicken Al Horno (whatever that is, but it's quite delicious) and nipped off some calamaris from my friend. These are one of the best calamaris you can find in Jakarta !