So far I'm eyeing out a lot of 90s trends from grunge, minimalism, power dressing and even those out-of-the-box Japanese designers like Rei Kawakubo and Yohji Yamamoto who used a lot of deconstructive styles. Lately, Marc Jacob's collection has caused a stir here. Honestly I'm not a fan of it because it's not wearable at all. I'm excited for Herve Leger's collection though. Still doing their trademark bodycon dresses, but this time with much more edge. From distressed denim to creamy beiges, every dress int he collection is SUPERB ! Here are a few of my favorites: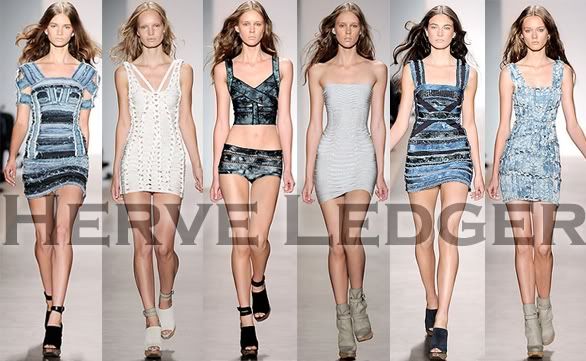 of course it features my favorite blue pieces and the white dress second from the left manages to incorporate the cutout trend in a very elegant way. those towering platforms complete the look effortlessly.
Here's another random collage I did on the Spring 2010 shows. I didn't like the whole collection of Y-3 and Behnaz Sarafpour this time. The collage consisted of the few pieces I like (that includes the the asymmetrical blazer from Y3)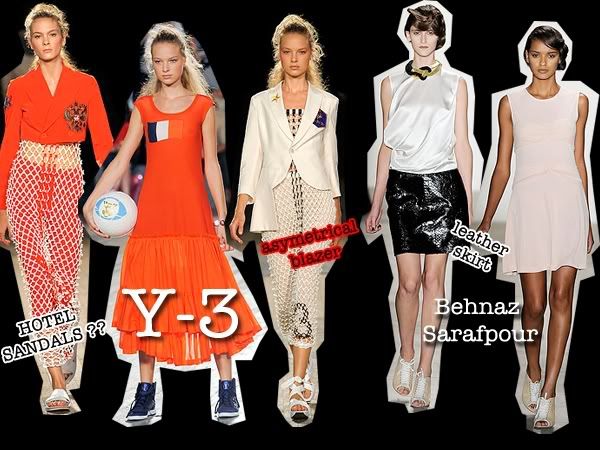 ZAC POSEN, one word: very colorful and lively!
It's not all wearable if you follow the styling ensemble. But by choosing a few pieces from the collection, you should be good to go :)
Check out these kick-ass thakoon heels . I don't I'll wear flats every again when I see the heels from Spring 2010 collection. THey are just too good to be passed!