Here's my inspiration board for the day from Boy of Band of Outsiders, Richard Chai, Altuzarra, Luca Luca, and Rag & Bone .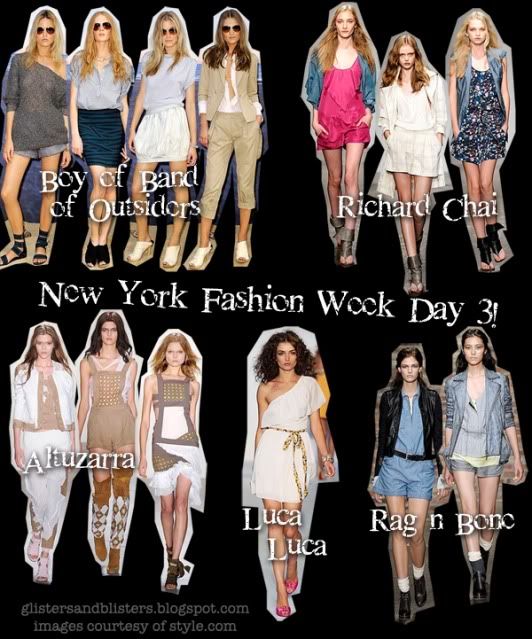 Boy of Band is doing this California cool style featuring aviators and loose+sheer pieces. Richard Chai is actually one of the few designers who steers away from the grunge theme this spring. The collection is feminine (hence the colors, cuts and prints) but it's not overtly girly. The leather sandal boots are so cute !
As for Altuzarra, I've actually never heard of this brand before. But it did attract my attention! Earthy colors and tribal details such as those african-inspired thigh-high boots (never thought these Fall 09 boots would make it to Spring!) and unique cutting and cutout details truly make this collection one of a kind.
Only one picture for Luca Luca. Didn't post the rest because the rest were just standard dresses. I'm loving the off-shoulder trend here. And it's not overtly done in a grunge way.
Not too impressed with Rag & Bone this season. I only liked 2 looks from the collection. The rest was too masculine for me. I should try wearing denim with leather these days. the ankle boots and socks combo is making another apperance if you haven't realize. This trend somehow reminds me of a "hunting to the wild" kind of a thing attire.